Links to Turkish Web Sites
Links are created to index pages in Turkish to distinguish between changes of domain names and temporary network errors easily. So please find the proper link and move on to English contents.
Legend

English contents are available. (Though they are not always equivalent to Turkish one.)
English contents seems to be under construction.
Only in Turkish.

If you want to open new windows...

Hold down the Shift key while you click a link. Hold down the Command for Apple products.

Travel
Government
News
Sport
Arts
Souvenir
Science
Regional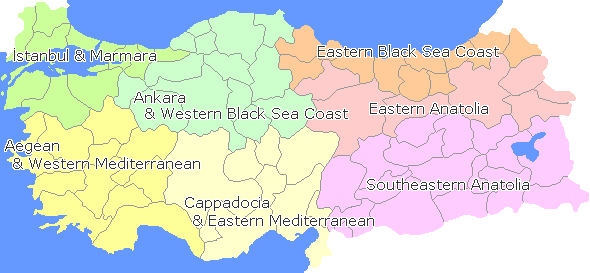 Click on the map in the area for which you want information. For the convenience of travelers to Turkey, the regions are separated by color. But it's different from the climatic division which is often found in Turkey.
İstanbul & Marmara
Aegean & Western Mediterranean
Ankara & Western Black Sea Coast
Cappadocia & Eastern Mediterranean
Eastern Black Sea Coast
Eastern Anatolia
Southeastern Anatolia